About the artist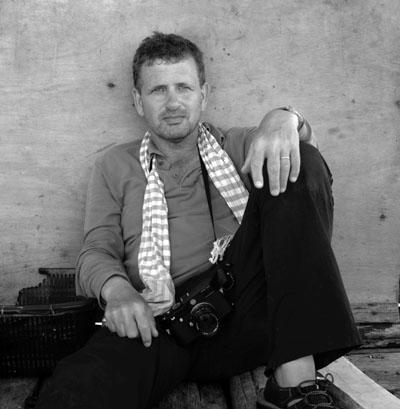 "Pierre de Vallombreuse is committed, through his photographic testimony, to the existence and survival of all people historically victim of national states and whose civilizations are victims of our civilization. He discovered himself in his own humanity by discovering their humanity. This fight also revealed to him the meaning of his own life".
Edgar Morin
Member of the Comité des Rencontres Photographiques from Amis du musée Albert-Kahn de Boulogne France.
Pierre de Vallombreuse, born in Bayonne, felt very early the desire to be a witness of his time after being in contact with Joseph Kessel, a great friend of his parents.
In 1984, he returned to the National School of Decorative Arts in Paris with the idea of ​​making a career as a cartoonist. However, a trip to Borneo the following year will change the course of his life. He shares his daily life with the Punans, the last nomads of the jungle. As a sedentary artist, he decides to become a nomadic witness, and photography becomes his mode of expression. Still a student at the Decorative Arts of Paris, he spent long repeated stays in the Philippine jungle with the Palawans. In total, he will live with them more than four years. A first part of his work on Palawans is presented at the prestigious photographic festival "Les Rencontres Internationales de la Photographie d'Arles" in 1988.
He was secretary general of the Anthropology and Photography Association (Paris VII University) created by Edgar Morin, Emmanuel Garrigues, and Jean Malaurie. He has published 10 books and exhibited his work in festivals, museums, and galleries. He regularly collaborates with major international magazines: Newsweek, El Mundo, El País, The Stampa, The World, GEO, Photo Answers, Figaro Magazine, L'Oeil de la Photogrphie, Camera International.
Since 1986, this photographer has tirelessly witnessed the lives of indigenous peoples on five continents. It has created a unique photographic collection of 42 people in constant evolution, paying tribute to the world's precious diversity. Each people emphasizes the multiplicity of responses to the conditions of life imposed by nature and history. Reading Claude Levi-Strauss's book "Tristes Tropiques" enlightens his path: Pierre de Vallombreuse introduces us to the complex reality of their way of life and fights for the respect and fair representation of these weakened populations, whose legacy is vital to us.

His work is a alarm call. It is structured around large projects taking place over several years: Peoples, Roots Men, Sovereigns, Badjao - a silent disappearance, The Valley, W. Project USA ... Their vocation is to alert the public of the fate of these peoples, because far from the primitive exotic and old-fashioned reality conveyed around them, the reality that he shows us through photography is quite different: it is a fight for their survival.
These populations are too often the first victims of genocide, wars, racist ideologies, economic predation, food shortages, ecological disasters and the "disintegrating integration" mentioned by Edgar Morin. So many crucial questions that, far from being confined to these more or less remote territories, concern our humanity.
Pierre de Vallombreuse is engaged at many on going projets. To participate on his projects, contact us.